Your wedding is a big day! Once the cake is eaten, the dress carefully stored away in the loft and the band has departed – your wedding day photos remain. Aside from the ring on your finger (and a husband!)  they're genuinely the only tangible things left from the day. Do you really want to take a chance on anything less than a beautiful set of images to remember it all by?
It's often said that most people would grab the family album as they fled a burning house – the importance of photography can't be underestimated and you should really consider if it should be trusted to an enthusiastic amateur. 
Believe me, your wedding day will pass in a blur.  There will be lots of little things you forget or miss, from your auntie's crazy hat, to your cousin's spontaneous game of 'slapsies!' You'll want killer photos that show off the most expensive dress you'll ever wear, the look on your husband-to-be's face when you walk to the alter and the reaction to the hilarious speech your dad made.
Our job as photographers is to make sure we capture it all, tell the story for the kids and grandkids yet-to-come.
And it's a damned tough job! A good wedding photographer has planned the day and knows how to stay in front of it. They'll be discrete, respectful and friendly to your guests and great organisers. It's a talent learned like any other and truly, until you have 50 or so weddings under your belt, you're still on a steep learning curve and likely to miss some crucial moments!  
Over 90% of couples employ a 'Professional Photographer' but even then there's the risk that there is no 'barrier to entry' and anyone can set up as a wedding photographer without the right skills, equipment or experience. Read on and we'll show you how to protect yourself.
A professional photographer is an integral part of the day and can help in many ways. We often avert potential problems and act as messengers and go-betweens with venues and officiants. We've sewn up bridesmaids dresses, we've noticed errors in top tables before the bride ever knew – on one occasion we even drove a wedding car after the driver fell sick!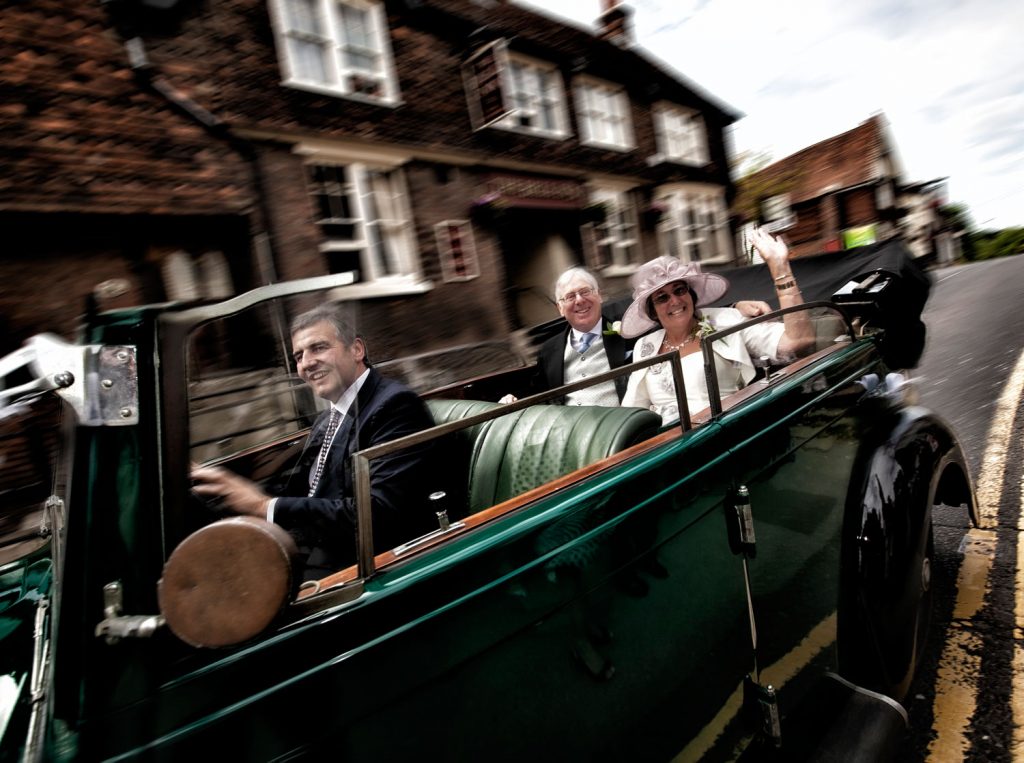 But where the professional scores over the amateur is when things go off plan, run late or you need to produce great images in difficult circumstances such as poor weather, low-light or a tough venue.
On a beautiful day, with lots of time available and a photogenic venue, anybody can produce 'hero' shots – whereas a professional delivers consistent high quality images, no matter what the challenges! An ability to deliver in all circumstances, every time. Training, experience, backup equipment and commitment are all crucial.
Your Uncle Bob may have a great camera, and he may be a brilliant landscape photographer (personally I've always been too reluctant for the 4am starts to be a decent landscape photographer!) but does he understand the flow of a wedding? How to pose big groups quickly for beautiful, lively images? Does he have backup equipment? Does he have top flight £2,000 lenses that will allow images to be captured in a dark church without flash? Does he know the rules of the venue?!
Honestly, there's a lot more to great wedding photography than a good camera!
The planning, wedding day application & all important post-production are all skills learned over many hundred of hours. A good wedding photographer will have submitted work for critique by their peers, attended seminars, and learned from their mistakes.
Don't be a practice wedding!
You wouldn't trust someone to drive your wedding car who hasn't driven a car before… by the same token, why risk using a photographer without experience?!