Babies change and grow so much during the first year, that in years to come, you'll look back on these photos with amazement and huge fondness. We start our 'Little Sitters' sessions from around 12 weeks old, once the baby can sit up and maybe crawl. The beautiful photographs that come from this fun-filled session will be priceless family heirlooms forever.
These sessions last around an hour, but there's no rush, with plenty of times for outfit changes and to use different toys and props for a wide variety of lively photographs to show your baby's personality. Don't miss this opportunity to capture this wonderful year – when these days are gone, they're gone!
"You can learn many things from children. Like how much patience you have, for instance."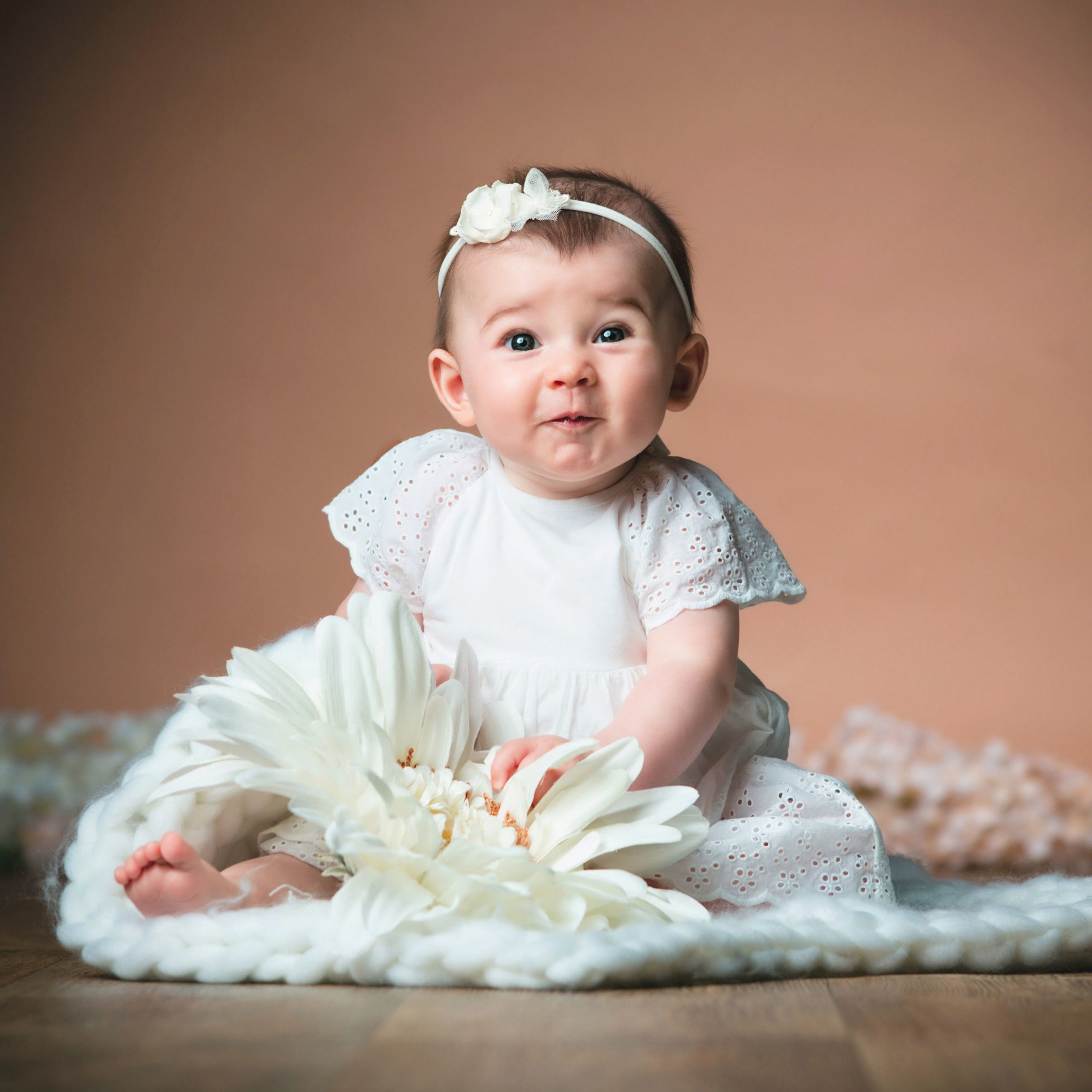 For babies from approx 12 weeks to 1 year.
Wonderful fun for you all!
Session allows plenty of time for props and outfit changes.
Fabulous present for grandparents!
Lots of options on display, such as albums/pictures/digital files.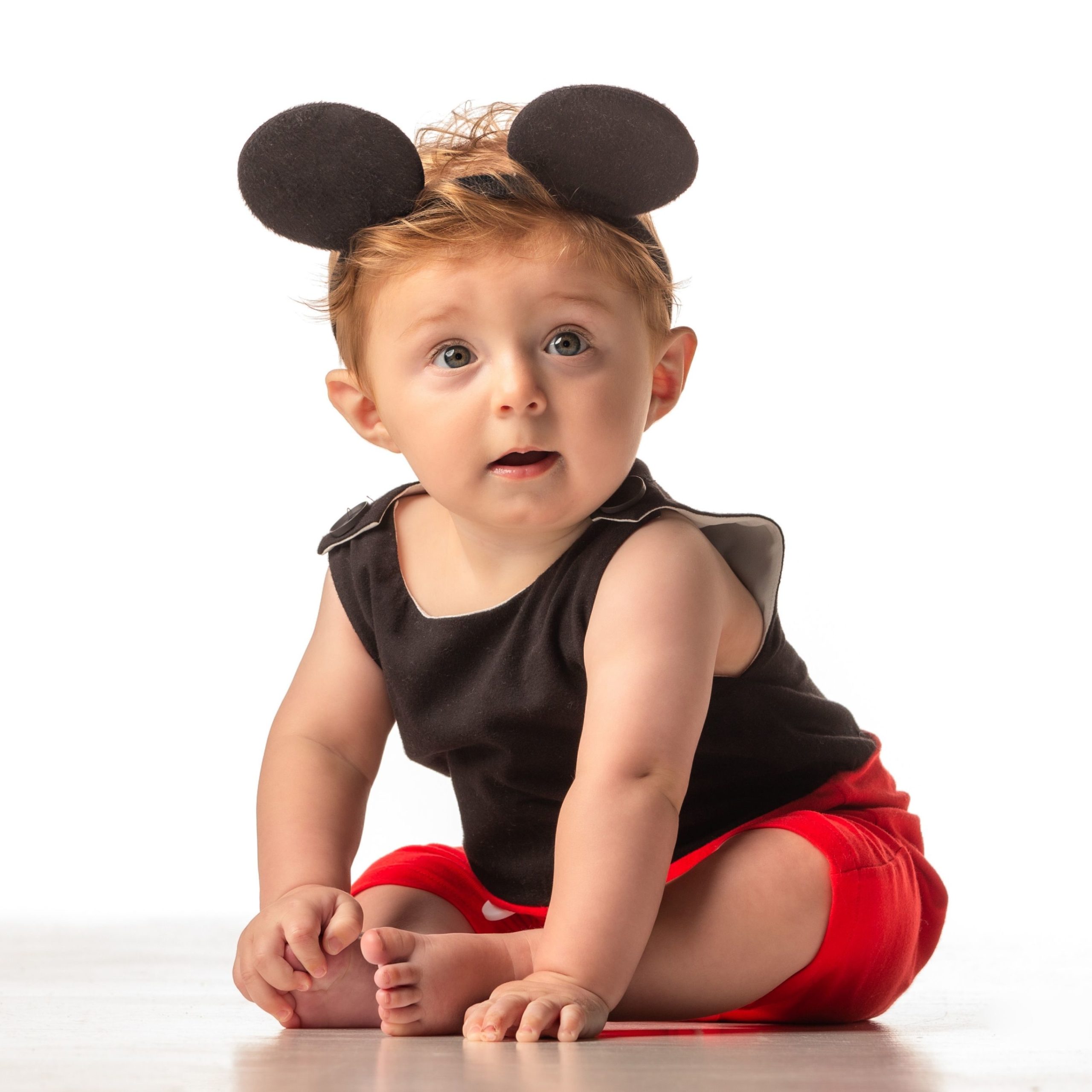 LITTLE SITTERS?
Yup! 'Little Sitters' is our catch-all category for babies and toddlers that can sit up, crawl and even toddle around on their own. Kids are so much fun at this age, their personalities are really starting to emerge and can be captured wonderfully in photographs.
By this age, they usually have a wonderful, unique wardrobe, favourite toys and props, and can play and interact well. This is probably my favourite age to photograph kids at, because the sessions are so much fun, and the photographs so full of life!
WHAT ARE THE COSTS?
Your Little Sitter session cost £29 for a 1 hour session in our studio, we include the use of all of our props and outfits. We are more than happy to include family images in this session as well should you wish. 
After your session we will get you back to the studio to view your images on our big screen. At this point you can choose which images and packages you wish. Print prices start from £49 with digital packages starting from £279. You can find full pricing HERE 
WHAT DO I BRING?
This is the perfect age to start really personalising the look of the images. Bring several different outfits, and lots of accessories and props.
Hats, scarves, gloves, sunglasses, books, cuddly animals, ride-on toys, even the dog! We'll talk before the session and run through some ideas together but let your imagination go!
MY LITTLE SITTER DOES LIKE TO SLEEP!
– Yes, they do that!
We'll just make sure we schedule the time of the session so they're at their best, usually so they've had a sleep, woken up and been fed and are raring to go. We'll plan it with you so we get the happiest, bounciest baby we possibly can!
Sessions usually last around an hour depending on their patience, but there's no hurry – we'll stop when we have the photos and the Little Sitter has had enough!
Russ and Emma were amazing photographing Angelica. She is 20 months old and a complete monkey. They entertained, played and even got her to strike a pose….!
The setting is lovely and I felt relaxed immediately. They did their best to make Angelica feel comfortable and she enjoyed every minute. I cannot wait to see the pics…!
Mate, these photos are just incredible! I didn't even know you could get photos like this taken round here!